Gym Flooring is one of the most important pieces of 'equipment' in the gym and is often overlooked or an afterthought.
As part of any gym refurbishment or new facility design, gym flooring should be an integral part of the planning both in the gym design and the budget for the project. If you think about it, flooring is the only piece of equipment that 100% of your members will interact with 100% of the time they are in your gym. It provides the foundation for every type of training program and every specific use of space.
Good quality gym flooring will last for many years, protect your subfloor, improve acoustics, and greatly impact your member's experience, so it's not something to cut corners on. As the saying goes 'do it right or do it twice'. Gym Gear's rubber flooring range is one of the best quality options on the market and has been supplied globally for over 8 years. Whilst maintaining high quality our gym flooring is also competitively priced providing longevity and cost-effectiveness.
Which gym floor to use?
We supply a range of floor thicknesses for different purposes and areas of the gym. Below is an example of the floor types used for a gym refurbishment project at a leisure centre. This leisure centre required a larger floor area for free weights, functional training and HIIT (high-intensity interval training). We used a combination of shock pad underlay to manage the vibration and acoustics, covered with our premium rubber gym tiles and turf tiles. The turf tiles are rubber tiles with a thick pile of artificial grass surface, perfect for functional training areas where sledges may also be used. On this project, we combined our turf tiles with a contrasting black sprint track for visual effect.
In the free weight areas, our premium epdm-topped rubber gym floor tiles were used to protect the subfloor from dropping weights, and oak lifting platform inserts were embedded into the rubber flooring to provide a seamless floor level provide better space efficiency around the half racks. The combination of flooring products used were all built to one consistent floor level, not only is this aesthetically better but also means there's less likelihood of someone tripping up.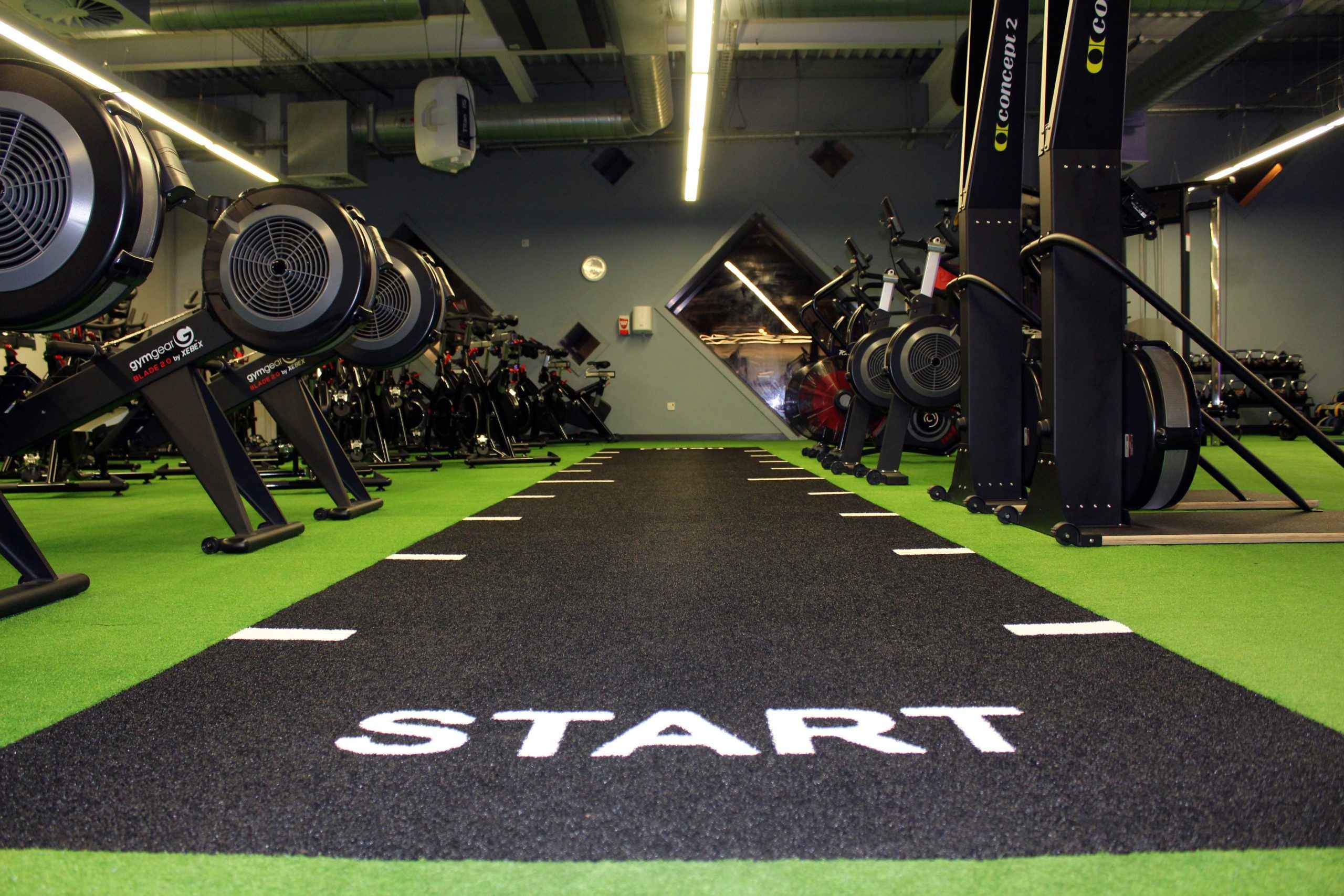 20mm Rubber Floor Tiles
Perfect for functional training areas, studio areas, and general gym areas. Our 20mm Rubber Gym tiles are easy to clean with a smooth epdm surface, fire rated and easy to install with our quick connect system. Available in plain black or black with a grey fleck. Other colours are available on request.
30mm and 40mm Rubber Floor Tiles
Design for free weight areas our 30mm and 40mm tiles have a better shock absorption system than the 20mm tiles, along with a 3mm epdm top layer for durability under heavy impact. Available in plain black, black with a grey fleck, and black with a blue fleck. Other colours are available on request.
30mm Turf Tiles
Our turf tiles are made up of a 20mm rubber base with 10mm synthetic turf on the top layer. These tiles are superb for functional training and small group training areas where typically lighter weights are used and the use of prowlers and sledges is required. Our turf tiles are also available with line markings to create a sprint track.
Sprint Tracks
We supply a wide variety of sprint tracks or prowler tracks as they are sometimes called. All our sprint tracks are designed for heavy-duty use in commercial gym facilities. You can choose from a variety of colours and line markings. We also provide customised sprint tracks with your gym's logo and colours included.
To find out more get in touch at 01772 428434 or email sales@gymgear.co.uk to discuss your requirements with one of our flooring experts.